The Severe Spotlight: Geoff Neal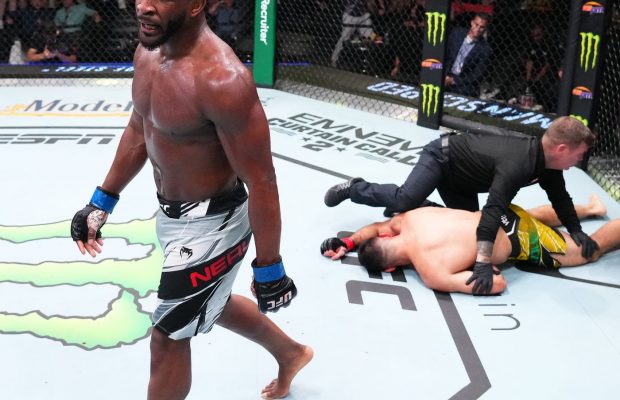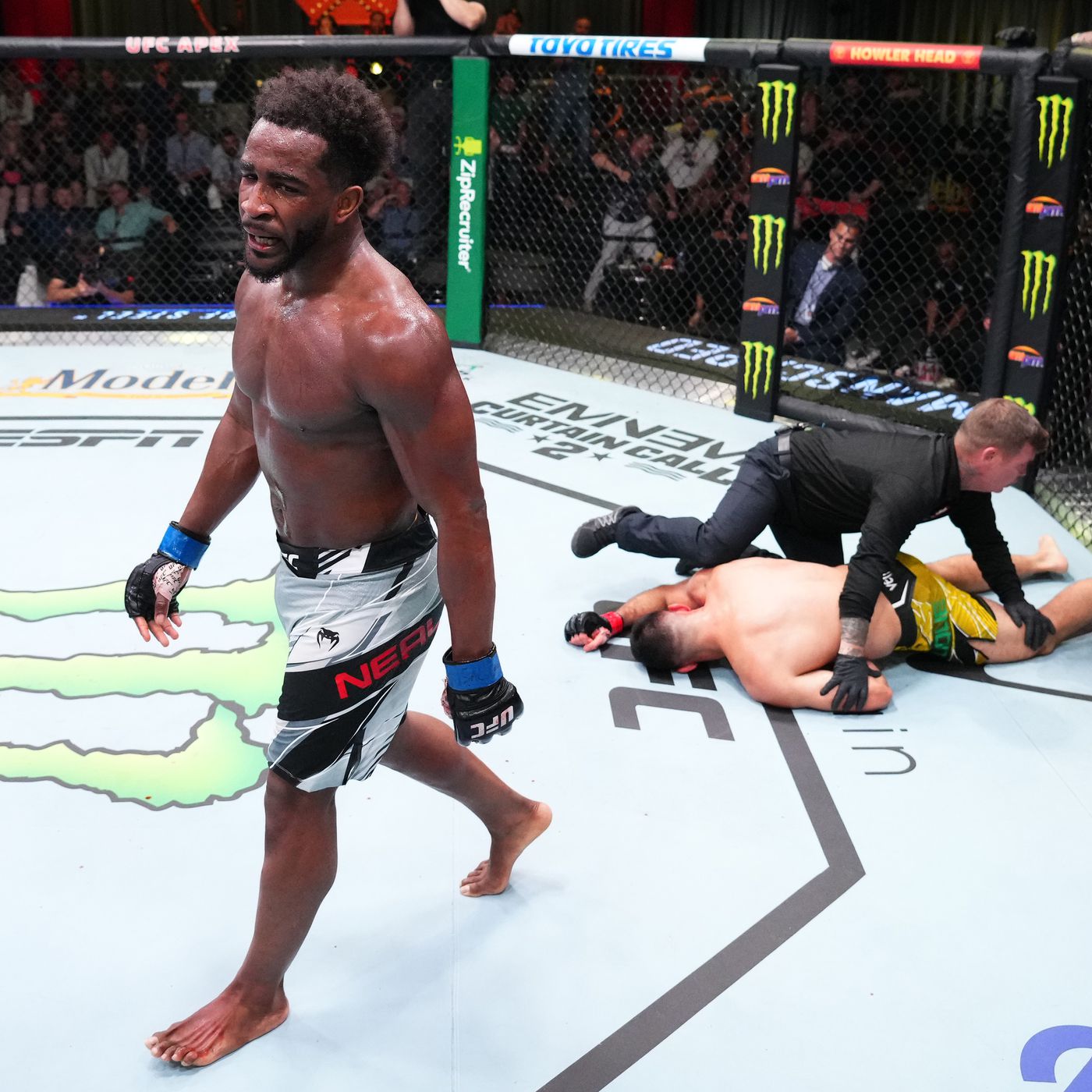 It is difficult on a fight full of finishes, to find a standout. To find a gem in a cluster of diamonds. Geoff Neal's performance on Saturday night warrants just that. Finishing Vicente Luque is tough, finishing him to strikes had never been done before, Geoff Neal over 12 minutes and a second, dismantled Vicente Luque rendering Keith Peterson with no choice but to enter for mercy.
At the elite levels of MMA, it is often an execution of a well determined gameplan that wins fights. The Geoff Neal gameplan was simple:
Allow Luque to fight in his own style and destroy him at every depth of field.
This gameplan became immediately apparent as the fight started, Neal did not move forward into the centre of the octagon as you conventionally see fighters doing – looking to establish an early positional dominance. Instead, Neal sat back, and allowed Luque to walk to him.
For context, the Luque A game is simple; walk people down, pressure with volume, and either put you away with strikes on the fence, or force grappling from a suboptimal spot for you, and find a d'arce.
The genius in reverse engineering starts here. Luque feels comfortable in walking forward, Neal feels comfortable in allowing him to do so. Inside the first two minutes, Neal had established his main three dilemmas:
Should Luque continue to walk forward into space, Neal would begin to exit on an angle, but before doing so, would throw and often land the piston of a left hand. Therefore, Luque became aware that he could not barrel forward with the usual fervour into the pocket, as a counter was waiting.
As Luque then advanced into space more tentatively, Neal did not retreat, and instead stood his ground and threw the left hand for Luque to walk onto. Thus, removing a layer of space perception.
Luque now feels as though he cannot wade into the pocket recklessly, as he will get countered, he now can't enter the pocket with too much volume, as Neal is there with a shot mid-combo. He was reduced to entering with mostly jabs or naked kicks. Those naked kicks were caught and punished.
Head movement and footwork are large elements to this gameplan, and Neal offered those in spades also. In the opening, before a strike or a feint had been thrown – Neal strafed to his right. Naturally Luque followed, strafing to his left and matching Neal in the channel. This right strafe, and match alone is a precursor to the footwork battle being won early. Neal has moved to his right to ensure that the left-hand side is wide open for him to move into, he is also testing Luque. Will he cut the cage off, or will he follow? He follows.
The first exchange is also important. Neal is baiting, and Luque jumps into the pocket and lands a low kick to the lead leg of Neal. A quick reset of space, and Neal shows his hand, albeit not as effectively as he would like, he pulls Luque into the space, and throws his left, however Luque has already taken his head off the centre line as he is throwing a body kick, so the left lands on the chest. The ego kicks in for a short period, as Neal now chases landing his own step-through body kick, and a left hand before backing all the way off and continuing the gameplan.
32 seconds into the fight and we are reaffirming to Luque that where he goes, Neal has an answer.
Whilst the overarching nature of the gameplan was to draw Luque on, Neal continually tested as to whether he was able to push Luque back, able to take over the pace of the fight during the first. When under pressure, the hands came up, the head movement and level changes began, and the counters flowed. One of those counters, around two minutes into the first round unequivocally told Luque he needed a different approach.
Neal found himself with his back to the fence, Luque had done a good job to square him. The hands of Neal came up, as he rolled with the two-shot combo Luque came with, carving an exit out of the right-hand door for himself with a right hand, as he rotated his hips back the left came right down the pipe, as we will see over and over in this fight, almost sitting Luque down and forcing him to reel backwards. With some better shot selection, Neal might have found himself in a far quicker fight.
Resetting to the gameplan, the left hands continued to chip away at Luque. The crimson creek beginning to emerge from Luque's nose a nod to the success Neal was having. A right-hand catches Luque off balance and forces him to roll backwards before Neal catches Luque in the trap again, moving back, draws the jab from Luque and counters with a bullet of a left. Luque stumbles backwards, this time on wobblier legs than last time.
The shot selection this time was far superior, we saw a triptych of left hands, a right to the body, another right left up top as he strafes across the hip line and then pulls away, drawing Luque (once again) back onto him, throwing a jab to draw the right hand of the Brazilian, and dropping him with the cleanest left counter you'd hope to see.
Luque returns to his feet, to be enraptured for the last 45 seconds to an applause of right and left straights, with some angle changes in the back for some added bass.
Gorgeous commitment to a gameplan. Neal had taken away the primary game of Luque, punishing him at every opportunity and then took the gameplan up, and began to be first, and began to take over.
The second round, Neal got away from the gameplan, and allowed Luque to fight in a manner he was more comfortable with. He engaged him in the pocket, allowing him to recoup some of the momentum now streaming into his lips from the open wounds on his nose and cornea. Sayif Saud in the corner of Neal pulled no punches of him, questioning why Neal had allowed Luque back into the fight and instructed him to get back to the gameplan.
As most Fortis MMA fighters do when Saud speaks, Neal listened.
The third looked much like the first, beautiful rotations through stances as Neal moved backwards, cut angles, changed sides, laid traps, and baited Luque into them. The pawing of the right hand to a left straight was landing at will. Luque recognised this and tried to up the volume, returning with a 3-punch combination in an attempt to ward off Neal.
Instead, he triggered the beginning of the end. Neal rolled with those shots, landing a hard left hand down the pipe, hurting Luque. The game face didn't falter but the blood was staining the water of the octagon, and Neal's nostrils flared. Neal landed again a clean left hand and Luque's body motioned gingerly back to the fence, Keith Peterson on full alert.
Neal flurried. Right hooks, left hooks, six left uppercuts followed by a left hook. A reset, followed by a left hook, a right hand, a straight left. A desperation left hook thrown out by Luque was countered by a crushing right hook, and the shot to put him down? You guessed it, a left hand on the tip of the chin. Luque collapses forward onto all fours. Peterson steps in and Neal proves that he deserves to be in the upper echelon of 170lbs.