Bellator 284 Gracie vs Yamauchi: The Line-Up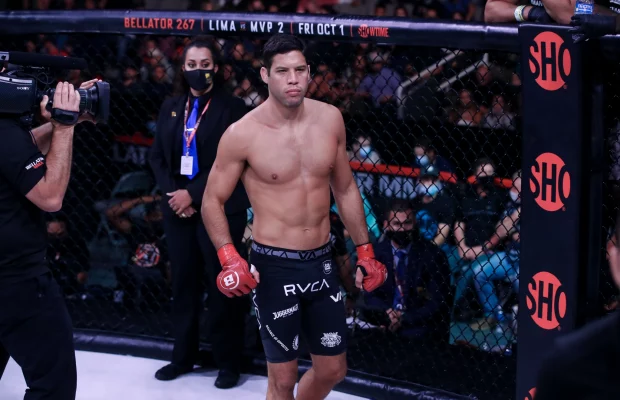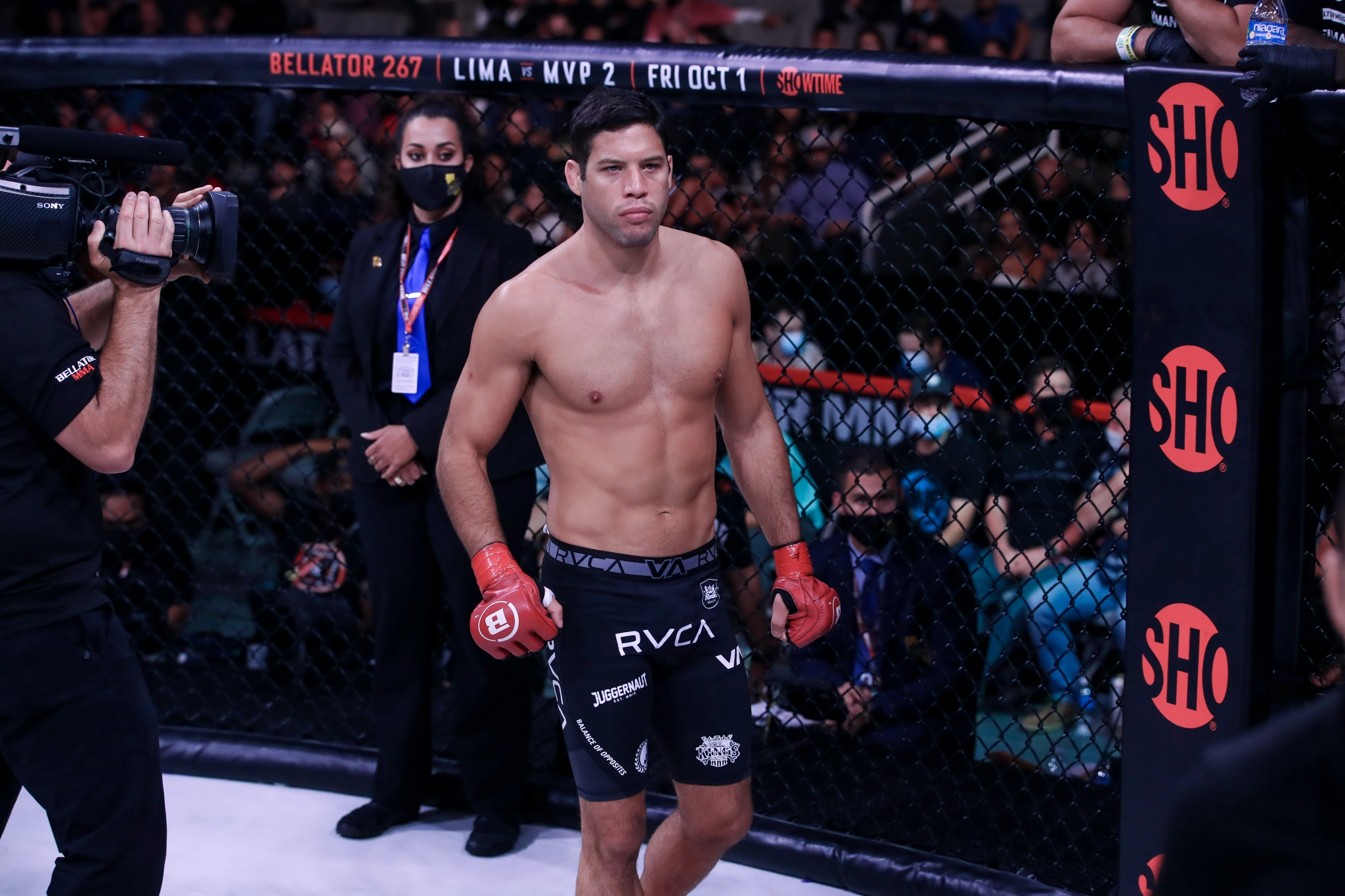 Main Card
Welterweight Main Event: #5-Neiman Gracie (11-3) vs. Goiti Yamauchi (27-5)
Neiman Gracie will have his second consecutive main event assignment on Friday when he faces Goiti Yamauchi. Neiman hails from the legendary Gracie family and has a second-degree black belt under Renzo and Royce Gracie. He is a slight favorite coming into this fight on the heels of his unanimous decision loss to Logan Storley earlier this year. Neiman's best asset is Jiu-Jitsu, but he has recently become increasingly comfortable in the striking realm. The 33-year-old Brazilian has gone 2-3 over his last five fights but held a nine-fight winning streak before that. Gracie has also never been finished in his professional MMA career. Goiti Yamauchi is a high-level grappler as well. Yamauchi is a BJJ black belt himself who has also never been finished. He finds himself on a two-fight finishing streak with five wins in his last six fights. His most recent fight was a first-round armbar submission over Levan Chokheli at Bellator 279. 21 of his 27 wins have been by submission. Friday night will mark his 18th fight under the Bellator banner.
Heavyweight Co-Main Event: #1-Valentin Moldavsky (11-2) vs. #5-Steve Mowry (10-0)
Russian powerhouse Valentin Moldavsky will take on undefeated Steve Mowry in a co-main event heavyweight clash. Moldavsky is well-known for his sambo abilities and his affiliation with MMA legend Fedor Emelianenko. He defeated Tim Johnson to cap off a six-fight winning streak while capturing the interim Bellator Heavyweight Championship back at Bellator 261. That was followed by a decision loss to undisputed champion Ryan Bader in a unification bout at Bellator 273. Despite his loss to Bader, Moldavsky is still regarded as one of the best heavyweights in the promotion with a bright future ahead of him at 30 years old. His opponent, Steve Mowry, also has a bright future ahead of him. Mowry is undefeated through ten fights and has a 100% finishing rate. Of his six fights with Bellator, five have ended in the first round. Moldavsky is by far the best fighter Mowry will face on this stretch, as no other fighter on Mowry's record had a single Bellator fight before they faced him.
Flyweight Feature Bout: #4-Ilima-Lei Macfarlane (11-2) vs. Bruna Ellen (6-3)
Fourth-ranked Ilima-Lei Macfarlane will face off against Bruna Ellen in a flyweight bout. Macfarlane was previously undefeated at 11-0 but now finds herself on a two-fight skid. She most recently lost a unanimous decision to Justin Kish at Bellator 279 in her native Hawaii. Nonetheless, she still holds a 72% finishing rate with six of her eleven wins coming by submission. "The Illimanator" is a former Bellator Flyweight World Champion and a former Hawaii State Wrestling Champion. Bruna Ellen is a Brazilian fighter who is six years younger than Macfarlane. Since joining Bellator in 2016, Ellen has gone 4-3 and has never been finished. Her last victory was a split decision win over Desiree Yanez at Bellator 271. A win on Friday would most likely award Ellen with a top-15 ranking in the women's flyweight division.
Heavyweight Bout: #9-Said Sowma (8-3) vs. #10-Gokham Saricam (7-1)
Said Sowma returns to the Bellator cage this Friday night for a heavyweight showdown with Gokham Saricam. Sowma is still the ninth-ranked heavyweight in Bellator despite losing a split decision to Davion Franklin at Bellator 274. He has managed to go 2-2 with Bellator since his debut in 2020, which derailed a six-fight winning streak for him. The only stoppage loss of his career coincidentally came against co-main eventer Steve Mowry at a Titan FC event in 2018. Said trains with American Top Team and has a 75% finishing rate. Gokham Saricam also had a stoppage loss to Steve Mowry, which came by a kimura submission in his promotional debut at Bellator 231. That marked to only loss of Gokham's career and he has won three straight fights since then, with two being first-round stoppages. The Turkish fighter won his last fight by unanimous decision against Kirill Sidelnikov at Bellator 275. You may remember Gokham from his 15-second KO over Charlie Milner at Bellator 270.
Middleweight Bout: #2-Austin Vanderford (11-1) vs. Aaron Jeffery (12-3)
Fresh off of the first loss of his career, Austin Vanderford is looking to make a statement against Aaron Jeffery. Vanderford lost his first chance at undisputed gold via a ground and pound finish in the first round of the Bellator 275 main event against Gegard Mousasi. That loss ended his eleven-fight unbeaten streak. "The Gentleman" usually relies on his offensive wrestling to earn his victories. He is a BJJ purple belt and a two-time NAIA All-American Wrestler. He also trains at American Top Team alongside the current middleweight champion Johnny Eblen. Aaron Jeffery is a former CFFC champion who is stepping in on short notice to face Vanderford after Anthony Adams withdrew. He won his promotional debut via a second-round finish at Bellator 282 less than two months ago. Jeffery has also appeared on Dana White's Contender Series twice before, losing to Brendan Allen and Caio Borralho in those contests. The 29-year-old's only losses have come to UFC talent and he holds a 75% finishing rate.
Preliminary Card
Bantamweight Bout: #9-Josh Hill (21-4) vs. Marcos Breno (14-2)
Josh Hill will headline the preliminary card when he takes on Marcos Breno in a bantamweight bout. Josh is a 35-year-old Canadian who has been with Bellator since 2020. In that timeframe, he has gone 3-1 with his only loss coming to current interim Bellator Bantamweight Champion Raufeon Stots. His last fight resulted in a second-round knockout victory over Jared Scoggins at Bellator 272. He was originally scheduled to fight Enrique Barzola at Bellator 278 back in April until he was forced to withdraw, which has been a common occurrence throughout his career. Hill also played junior hockey for three years with the Glanbrook Rangers in the early 2000s before he began focusing on MMA full-time. Marcos Breno is a surging 24-year-old from Brazil with just two losses under his belt. He most recently starched Ary Farias at LFA 111 last year and will be making his long-awaited Bellator debut on Friday. Breno has finished 13 of his 14 wins with eight of those coming by way of knockout. Breno is taking this fight on short notice as Hill's original opponent, Matheus Mattos was forced to withdraw due to injury.
Flyweight Bout: #6-DeAnna Bennett (12-7-1) vs. #8-Justine Kish (8-5)
DaAnna Bennett will rematch Justine Kish in a flyweight bout. Bennett is a Philadelphia native on a two-fight winning streak eleven years into her career. She has fought some high-caliber names such as Juliana Pena, Jennifer Maia, and Liz Carmouche. Since joining Bellator in 2020, she has gone 2-1 with her sole loss coming to the reigning champion Carmouche, which was at the end of the second longest layoff of her career. Bennett has also earned her brown belt in Brazilian Jiu-Jitsu. Justin Kish is a WMC Muay Thai World Champion and is a second-degree black belt in Kempo Karate. After being let go from the UFC in 2021, she took her third straight loss in her Bellator debut against Bennett, with two judges scoring the fight 30-26. She responded to that loss with a unanimous decision win over Ilima-Lei Macfarlane at Bellator 279 back in April. Coincidentally, she'll now fight on Macfarlane's undercard while being ranked lower than her despite handily defeating her on home soil just four months ago.
Light Heavyweight Bout: Sullivan Cauley (3-0) vs. Tyson Jeffries (14-10)
Sullivan Cauley will take on Tyson Jeffries in a light heavyweight bout. Cauley is undefeated through three fights, all of which have been with Bellator. He is a former wrestler at Arizona State University and is only 26 years old. Sullivan most recently finished Ben Parrish in the first round at Bellator 273, which marked his third straight first-round finish. Tyson Jeffries will be making his Bellator debut 14 years into his professional career. His last fight was in 2018, which marked his second consecutive knockout loss. He has not won a fight since 2015 when he defended his KFP Welterweight Championship. Through 24 professional fights, Jeffries has only gone the distance twice.
Middleweight Bout: Pat Downey III (0-0) vs. Jeff Souder (0-0)
Pat Downey will make his professional MMA debut against Jeff Souder who is also debuting on this card at middleweight. Downey is a former collegiate wrestler who finished as high as fifth place at the NCAA championships with an NCAA career record of 17-4. He also holds a win over Gordon Ryan at BJJ Fanatics in 2020, which is just the second loss of Ryan's career. The 30-year-old hails from Maryland and did the brunt of his wrestling for Iowa State. Jeff Souder is making his return to MMA for the first time since 2019 when he finished his amateur career. In the time since then, he has fought twice for the Bare-Knuckle Fighting Championship going 1-1 in those bouts. Friday night marks the first time that Souder has been scheduled for 3 5-minute rounds.
Featherweight Bout: Isaiah Hokit (1-1) vs. Nick Perez (0-0)
Isaiah Hokit will face off against Bellator newcomer Nick Perez in a featherweight bout. Hokit bounced back his 10-second KO loss in his debut with a rear-naked choke first-round finish back at Bellator 274. Previously, he was a high-caliber wrestler at Fresno State who made it deep into the Big-12 Championships. This fight will also mark the first for Nick Perez since his amateur MMA finale back in 2018. Perez is 26 and has only been to the judge's scorecards three times through nine amateur fights.
Heavyweight Bout: Bailey Schoenfelder (2-0) vs. Mark Currier (1-1)
Hometown hero Bailey Schoenfelder will take on Mark Currier in a heavyweight bout. Schoenfelder has remained perfect thus far through his two professional fights. His professional debut ended with a 20-second KO, followed up by a first-round stoppage in his Bellator debut. The 24-year-old is also a recent graduate of the University of Minnesota where he played linebacker on the school's (American) Football team. Mark Currier will make his Bellator debut on this card. At just 25 he has amassed a record of 1-1 professionally, with a 6-4 record as an amateur. His most recent performance was a first-round finish back in May.
Bantamweight Bout: Mitchell McKee (2-0) vs. Tony Ortega (5-4)
Mitchell McKee will face off against Tony Ortega in a bantamweight bout. McKee will be making his Bellator debut undefeated through two fights. The 24-year-old trains out of Kill Cliff FC alongside Michael Chandler, Robbie Lalwer, Ian Garry, and others. Both of his victories have been by knockout. Tony Ortega will also be making his Bellator debut in this fight. He is also on a two-fight finishing streak and has only been to the scorecards once through nine professional fights.
175-Pound Contract Weight Bout: Brett Brye (0-0) vs. M,A, Yah II (0-0)
Brett Brye will open up the card when he takes on M,A, Yah in a 175-pound catchweight bout. Brye is a former wrestler at South Dakota State University. His sole amateur fight is a decision victory from this past March. The 25-year-old will be making his professional debut in his native South Dakota. M,A, Yah II is also debuting with Bellator in this fight. He is only 22 and finished three of his four amateur victories. Yah is a Florida native but trains out of Skywalker 101 in Nebraska formerly alongside Anthony "Lionheart" Smith.