Norman Parke hopes to train in SBG for UFC London bout with Khabilov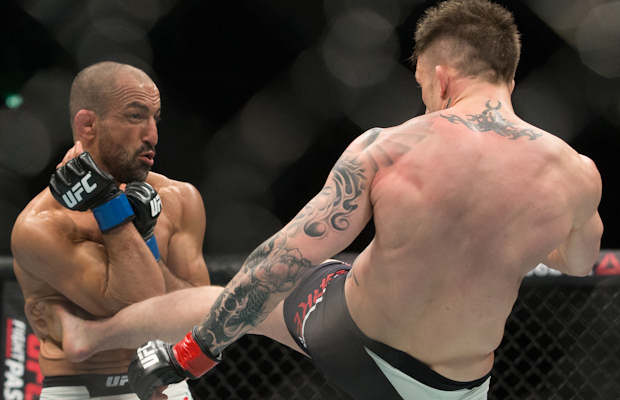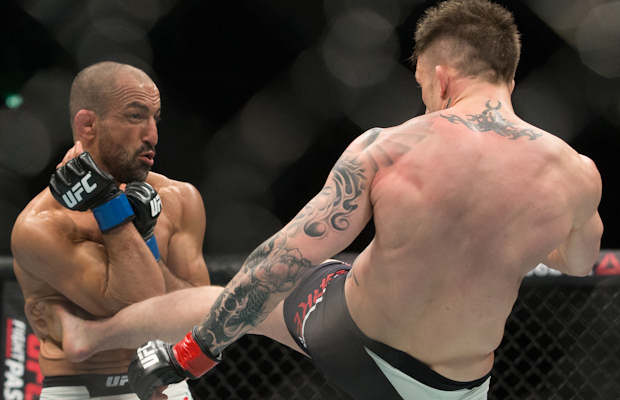 Norman Parke has signed a new four-fight contract with UFC, his first since claiming the TUF: Smashes crown in December 2012.
Although a lot of fighters would celebrate a new contract with the world's flagship promotion, Parke maintained, "nothing is guaranteed" in the MMA world on the back of the announcement of his ninth UFC bout against Rustam Khabilov at London's O2 Arena on February 27.
"This is the first contract since the TUF contract," he revealed. "I did have a couple of fights left on my contract, but that was scrapped and now I've been offered better pay, so I wasn't going to turn that down, was I?
"I've never been in situations with contracts and things like that before. It's usually just a case of people contacting me and I'd say yes or no. They rang me and said that they were aware that I had a couple of fights left (on my old contract), but they said they would take them away and sign me up for another four fights. I said, 'that's great' and that was it. I signed the contract and sent it back to them.
"Even though I've signed the contract there is nothing guaranteed in this sport. Just because you sign a four-fight contract, it doesn't mean you're guaranteed four fights. You've got to perform to."
After his big win in Dublin over the returning Reza Madadi in October, the dynamic duo behind the Severe MMA Podcast, Andrew McGahon and Sean Sheehan, suggested that the win over Madadi had been the best performance 'Stormin' Norman' has had under the UFC banner. The Bushmills man claimed that he didn't agree with Sheehan and McGahon's sentiments via social media, and he further explained why he did not feel his performance against 'Mad Dog' was the best of his UFC tenure.
"It 100 percent was definitely not my best performance. The people who spar and train with me know that I'm far better than that performance, and I know that too. You've got to keep working on it, you know. Maybe I'll go in there someday and completely dominate someone in spectacular fashion. Then everyone will realise what I'm capable of because my training partners already know it.
"Really, it's going to take time. Whenever it happens, it happens. I just want to get in there and fight, but I definitely wouldn't say my win over Reza Madadi was my best performance. If I were pushed to pick a fight that I thought was my best in UFC, I'd probably say it was against John Tuck. I just felt I beat him in every area."
Interestingly, Parke also revealed that he hopes to train in SBG Ireland ahead of his bout Khabilov. The Next Generation Northern Ireland man insisted that training with "new styles" and getting "different perspectives" is the key to growing his all round game.
He said: "I think I'm going to be down in Dublin for this fight to do some training at SBG. I have been talking to John over the last while about going down there. Hopefully, that can come off for me and I'll be able to head down.
"I know they have a lot of really, really good grapplers like Gunnar Nelson down there. I'd really love to get to spar Conor as well. All of them, I'd just really love to train with them guys. I was going to go down when Conor was fighting Dustin Poirier, my coach said that John Kavanagh contacted him about me going up to spar Conor ahead of the fight, but I was away in Mexico at the time.
"I've always said that I wanted to go there and train. My coach Rodney (Moore) is not the kind of guy that would make you stay in one place for your training. At the end of the day, this is my career and I can go and train wherever I want and Rodney will never try to stop me from doing that. I've been over in America training and there was no problem when I came back. As long as I'm improving I don't see any problem with it.
"We've got a lot of great lads up here in Next Generation, but at this stage we nearly have too much of an understanding of each others' games. You end up in the same situations all the time whereas if you're mixing things up with people who have new styles, then you improve a lot just by seeing things from a different perspective. We'll see what happens but I've been talking to John a lot about it. Hopefully it works out and I can get down there a few times."
Interim featherweight champion Conor McGregor declared interest in a bout with Parke after making his UFC debut in 2013, but Parke is confident there will be no hard feelings between the two if he trains in the John Kavanagh facility.
"I don't think anything that has happened in the past will be an issue if I go to SBG. That's all in the past, at the end of the day I'm doing what I'm doing and he's doing what he's doing and look where he is. I hardly think that he will be worried about me coming training down there.
"I've told John that I really want to go and train down there and he said we will talk. That was before my last fight and it never happened because I couldn't get down. Hopefully it will happen now. I know a lot of the guys down there fight the guys from up here and there are some of them that have a bit of beef with each other, but at the end of the day we're all from the same country. It's all one so we should be working together to take on the rest of the people."
@PetesyCarroll