Preview and Picks – UFC 194: Jose Aldo vs. Conor McGregor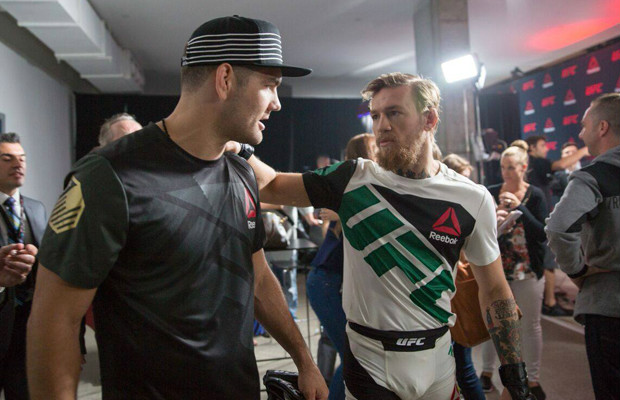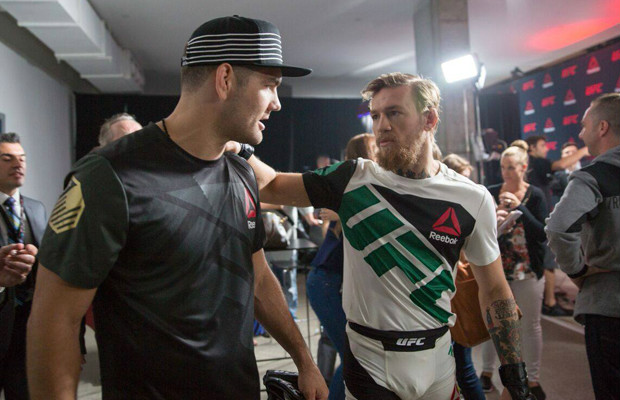 It's time.
Finally.
UFC 194 is here and, almost beyond belief, the card has avoided the injury epidemic and goes ahead with the best line-up of fights any one night of mixed martial arts has ever seen.
Unless you've been living under a rock you know that the main event will see the featherweight titles unified as the only ever full champion Jose Aldo takes on Irish sensation, and current interim champion, Conor McGregor in a fight which I broke down in depth right HERE.
All that's really left to do now for the main event is pick my winner.
As I alluded to in that Big Breakdown of this fight, range is a huge factor. In fact, it's the biggest factor and the reason I'm picking McGregor to win on Saturday.
In short, the Irishman is the king of breaking down defenses. His cage-cutting with footwork and long kicks are going to be massive early on. They will push Aldo back and establish a long range where McGregor can hit and not be hit. Aldo, on the other hand, will want to go forward too and stay strong in his Muay Thai stance as he tries to punish McGregor with jabs, low kicks and straight shots. When Aldo pushes forward to hit McGregor – which he undoubtedly will – the counter strikes of McGregor will also play a big part.
Whoever takes the backward step first – allowing the other man to establish his game – will have a huge disadvantage here.
For me, McGregor will be able to stay on the front foot for larger parts of this fight and use his size and glitzier arsenal of strikes to hit Aldo from deep.
I really think this one will end up a war of attrition. Who can hit hardest, the most often.
In the featherweight division nobody hits at a greater output and with as much ferocity as Conor McGregor.
Middleweight title – Chris Weidman vs. Luke Rockhold
But no, that isn't all!
Almost flying in under the radar is a co-main event of epic proportions between UFC middleweight champion Chris Weidman and former Strikeforce title holder Luke Rockhold.
Fighting out of New York under the stewardship of Ray Longo and former UFC welterweight champion Matt Serra, Chris Weidman has risen to the top of the world in just thirteen fights. Wins over the likes of Damian Maia and Mark Munoz saw Weidman catapulted into the title picture before many would have expected but those worries were quickly quelled, temporarily at least, when Weidman knocked out long-time pound-for-pound king Anderson Silva.
In the rematch Weidman didn't get a chance to extinguish those lingering doubters due to Silva breaking his leg while wins over MMA veterans Lyoto Machida and Vitor Belfort, although impressive, didn't really garner the additional respect his skills deserves.
That, though, will change on Saturday night one way or the other as Weidman steps in against another exciting, young, dangerous fighter in his prime.
That fighter of course is Luke Rockhold and is seen by many as the 1b to Chris Weidman's 1a as far as middleweight talents are concerned. Training with the likes of Cain Velasquez, Daniel Cormier and Khabib Nurmagomedov at the AKA gym in San Jose, California Rockhold was the last man to hold the Strikeforce 185 lbs title, beating Tim Kennedy and Jacare Souza along the way, before the company was purchased by the UFC.
Since then, Rockhold has gone 5-1 inside the Octagon, losing only to the TRT-TUE-aided Vitor Belfort in Brazil, and will be dead set of getting some gold back on his shoulder this weekend.
As a contest, this one comes close to matching the main event in terms of historical quality with both men well-rounded in the extreme.
Weidman has a fantastic base as a wrestler. He his grappling prowess extremely well against the fence and out in the open with quick level changes before employing his a crisp passing and submission game on the mat. Striking wise, Weidman is very deceptive. His ever improving technique is there for everyone to see but the power, athleticism and speed with which he hits constantly bedazzles opponents – none more than Anderson Silva.
Rockhold leaves nothing to the imagination with his game. Like Weidman he is an absolute athletic beast who picks his shots extremely well when he bursts into action. His kicks to the legs, head and body are all very effective while his southpaw stance gives plenty of additional problems. On the ground Rockhold very good passer and is a submission whiz but is likely to want to stay out of there against Weidman.
Expect this one to be very back and forth affair the whole way through. Like he always does Weidman will come out and push the pace. Rockhold will know that so expect him to be looking to time the champion and land the counter right hook that he throws so often.
In past fights Rockhold has shown his best work when he can strike from the back foot, land a shot and then pressure opponents with a barrage of power strikes in a forward blitz. That's also his most likely method to victory here. But against Chris Weidman, with the experience of two Anderson Silva fights behind him, that is going to be very difficult.
With that in mind you'd expect a less aggressive, more defensive striking game here from Weidman filled with jabs, elbows and tight combinations – rather than power shots – and plenty of wrestling mixed in. Over five rounds someone with the skillset and power of Rockhold can't be looked over – especially after Weidman showed signs of fading late against Machida – but I'm going to have to favour the champion to edge out a title retaining decision here.
Miscellaneous Ramblings
With the two title fights finishing out the night with a bang the UFC could have been forgiven for padding out this card. In actual fact the exact opposite is the case with three unbelievable fights on the main card as well as names like Court McGee, John Makdessi, Tecia Torres and former WEC champion Urijah Faber on the undercard.
Opening up the pay-per-view section on the night, like the main event, is a top-notch featherweight showdown between Max Holloway and Jeremy Stephens. Currently on a seven-fight win streak it isn't beyond the realms of possibility that Holloway could get a title shot with a win on Saturday – especially if Aldo is still the champion. For Stephens it's a chance to steal all that momentum and elevate himself towards the top-5.
Expect this one to be very nip and tuck all the way through because of the game Stephens brings. Holloway is much the faster man with the better striking technique and should dominate most of the goings. But with the gargantuan power of Stephens he is dangerous until the very last second. If Holloway showed anything against Conor McGregor, though, it's that he is extremely durable and if his chin can hold up again on Saturday it should be a unanimous decision win for him.
Then, at welterweight, the hardcore fans fight of the night goes down as SBG Ireland trained Icelander Gunnar Nelson takes on former middleweight title challenger Demian Maia in a much talked about and highly anticipated match-up.
With two of the best jiu-jitsu practitioners in the business on show, it would be a joy to see the results of this one hitting the ground. For that to happen, the improving wrestling of Maia or the trips and powerful hands of Nelson will have to come into play. If it does hit the mat, it should be epic with mad scrambles and submission attempts from two masters of their craft.
With that said, I think it'll probably even itself out in the grappling and end up back on the feet for large periods. There, Nelson will have a big advantage and if he can establish a good rhythm I fancy him to get the stoppage.
Speaking off good grapplers that's exactly what the middle of the five main card fights has as middleweights Ronaldo "Jacare" Souza and Yoel Romero meet at last. Prior to this fight, former Cuban wrestling Olympian Romero and former world jiu-jitsu champion Souza were due to meet on two occasions but both, at UFC 184 and UFC on FOX 15, fell through because of injury.
Now – with the middleweight title also on the line on Saturday – they finally meet with an almost certain title shot awaiting the winner.
Usually in a fight between grappling experts the worry is that the action will turn into a low-level kickboxing battle with neither man able to assert dominance on the ground. That is not the case here.
On the feet both of these men are wild, extremely dangerous and still improving. Jacare is more of a Muay Thai guy who likes to throw hard knees behind his big swinging haymakers. Southpaw Romero will pump in with his jab and let go of power shots from either side.
Should it move to the fence – which is fairly likely at times – this will be a hard battle between two masters of the area. Jacare likes trips and takedowns from in close while Romero will power his way down with a grasp on the body or hips.
On the ground you'd definitely have to give the advantage in passing and submissions to Souza but holding an Olympic silver medallist down will be no easy task. Add all that together and you have one very difficult fight to call.
For me, I think this will come down to a tiny margin and Romero's strength, especially against the fence, might just see him through.
FULL FIGHT PICKS
José Aldo vs. Conor McGregor – The war of attrition is won by McGregor in the middle rounds
Chris Weidman vs. Luke Rockhold – Tight decision goes the way of Weidman
Ronaldo Souza vs. Yoel Romero – The strength of Romero edges it for him
Demian Maia vs. Gunnar Nelson – Even on the ground, Nelson stops it on the feet
Max Holloway vs. Jeremy Stephens – Holloway wins all three rounds
Urijah Faber vs. Frankie Saenz – Faber
Tecia Torres vs. Jocelyn Jones-Lybarger – Torres
Warlley Alves vs. Colby Covington – Covington
Leonardo Santos vs. Kevin Lee – Lee
Joe Proctor vs. Magomed Mustafaev – Mustafaev
John Makdessi vs. Yancy Medeiros – Yancy
Court McGee vs. Márcio Alexandre Jr. – McGee
BETTING TIP
This time I'm going for a double of Gunni Nelson and Yancy Medeiros which is just over 4/1
START TIMES
Early Prelims – 11.30pm on Fight Pass
Prelims – 1am on BT Sport 2
Main Card – 3am on BT Sport 2