Carl Booth talks BRAVE CF title fight: "Everything is going my way"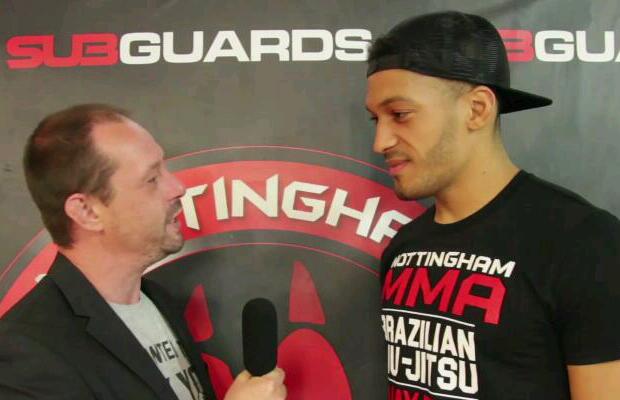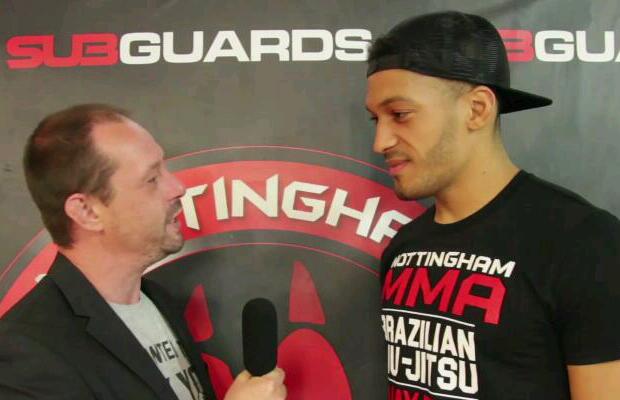 With the evolution of UK MMA and the growing talent coming with it, opportunities can be long in the distance for a combatant. Promotions heavily stacked; shows having no room at the inn. For Carl 'Bomber' Booth, distance is just that as he prepares for the most prolific battle of his professional career this weekend in Brazil on BRAVE CF 8 against Mohammad Fakhreddine for the welterweight title.
Since arriving on the adventurous promotion, Booth has made an impressive showing of himself, opening up his account with a second-round TKO. Full of momentum entering his second bout, one in which he felt he would've been ahead on until a timekeeper's error brought a halt to proceedings as well as plenty of confusion.
"I thought it was going to be a five-round fight," Carl told. "There was some kind of miscommunication that ended up with it only being a three-round fight. I was ready to continue on and felt like I was ahead on the cards up until that point, too. I've watched it back and I wouldn't even give him one round of it.
"He complained about it constantly and ended up getting it overturned to a No Contest, which he seemed pretty happy about. He has a tough fight soon, so if he wins that then maybe I can get a rematch with him and settle, but I don't think he'll want it after last time. BRAVE promised me that if I won two fights I could take on a title fight, so for now I'm putting that one behind me, focusing on this massive opportunity to take home some gold."
Despite the controversial outcome, Booth views the previous performance as positive, evident in his own mind with being given the opportunity to fight for the 170lbs strap. The professed 'Bomber' finds himself on a six-fight win streak and, with everything falling into place for him, he could well prove himself to be one of the hottest welterweight prospects out there.
"Everything is going right for me," Carl beamed. "I'm having tough fights out here against very challenging opponents. Look at their records. I've won six straight now and it just shows that I'm getting closer to achieving my dreams and one of them in a true world title. Everything is on the right path and I'm going to start making serious noise."
Fighting outside the UK and entering into the proverbial 'enemy territory' can create an ominous aroma on the battleground. The atmosphere, the lack of supporters and realisation that it may be just you and your cornermen against a nation's own is something you'll conquer or fold under.
Carl believes his mindset in rock solid in these situations and when given the opportunity to silence a favouring crowd, the heavy-handed welterweight relishes the challenge to test all calibres.
"It's fun fighting abroad," Booth opined. "I like travelling, so getting to see the world and punch people in the face makes it all that much better. I do miss the home atmosphere, however – friends and family cheering me on. I've sometimes stepped back and heard the sheer silence in your own corner when you're fighting out here with nobody in the crowd for you.
"I hope BRAVE are able to set up a show in the UK. They have a lot of Irish guys on their shows too, so it only makes sense to try and put on a show somewhere back home.
"The number one thing, BRAVE are paying me more than anyone ever has and that's the main thing when you're out here trying to make it. The chance to fight foreign fighters and test yourself against much varied disciplines is what we should all be doing instead of fighting our country's own on this little island where we know everyone.
"The opponents they get out here are all different levels and styles and I really like that challenge," continued the Nottingham native. "Some from big gyms, some from small gyms and that's not a variety you get in the UK. I think it's setting me up to where I want to be, fighting in the UFC against different guys from around the globe.
"It's all good staying over here being able to run the scene, fighting the same old people with the same old styles, but until you go abroad and fight a different calibre, you're only testing the waters so much. I've noticed when I'm out there, the Russians and even the Indians, they're just rough people and getting the chance to experience that is only going to benefit me."
Despite his commitments outside of the UK, in comparison to other British scrappers, Booth feels he's yet to receive the media coverage he should be getting. In his mind, he's finishing fights and performing stronger than many back home have been.
Even though he adopts the method of letting his fist do the talking for him and while the knockout artist is slightly irked by how he's flying under the radar, he senses only time will see a change as he continues his climb up to the elite levels.
"To be honest, I don't think I get as much coverage as I probably should and it does bother me a little bit when I'm doing much better than most British up-and-comers," Carl asserted. "I'm an up-and-coming welterweight who's fought some good names and I'm out here about to fight for BRAVE's welterweight championship and it's kind of gone under the radar. It does bother me a little bit, but eventually, I know I'm going to end up in the UFC on big cards against top ten level guys.
"I know I'm quiet and let my actions speak for me. I'm not about arguing on Twitter with people, everybody is trying to do the same thing to make noise now and I'm not into it. I go out there and I have proper fights.
"I think I'm up there among the best UK welterweights. Out here, I don't really know how the UK rankings work, but I see a guy I knocked out, fighting for a world title and it's very confusing to me. Nonetheless I'm planning to be in the top ten and in the UFC in the near future. If I keep going about it in this same fashion then I'm definitely going to be there.
"UK MMA has some good guys," Booth digressed. "There may be some potential matches some day. I don't really watch anybody else on the scene, I just focus on myself. I know myself and Matt Inman were scheduled to fight once on Made4TheCage and that's one I'd probably like to get at again. He's a great fighter and has shown with his latest displays, but I think I'd flatten him. I wouldn't mind having that one set up again. It just depends on the show with contracts. We will see, though."
As aforementioned, the biggest challenge of Carl's career will be standing across from him in the co-main event of the evening, with a vacant championship potentially crowning him king of the welterweights should he be victorious. Booth believes he is the maturer of the two and that the Lebanese eleven-fight veteran Fakhreddine is exactly the opponent the Brit needs to showcase his talents upon.
"He's a bulldog," Carl confessed. "His style is rough and both of us go together well. I can only see it being a scrap as always. I think I'm a much more sensible striker than him, though. I'm not wild. I pick my punches carefully and make sure they find a home. He's definitely going to try to turn it into a dogfight, but I see myself countering him very often and taking the win. I've watched his fights, studied his style and all he likes to do is come forward, throw a few low kicks and steam in with his hands.
"Even if it goes to the ground, I know he's not going to be nowhere near as strong or smart as me. I've been training with some top guys around the UK scene and it's been great to have welterweights come up and train with me. I'm taking this belt and moving on to what's next for me. All I want is the big fights and I'm on my way to get them."