UFC 253: Adesanya vs. Costa Preview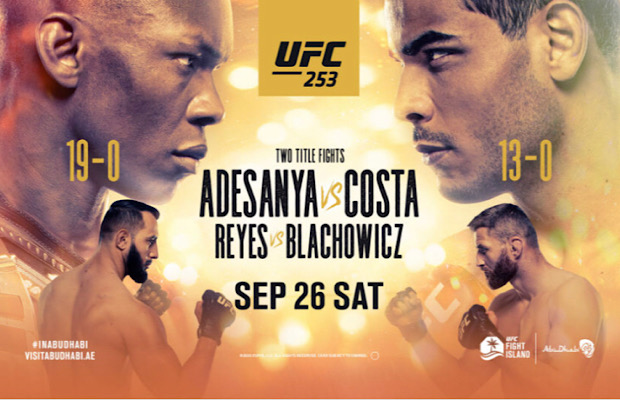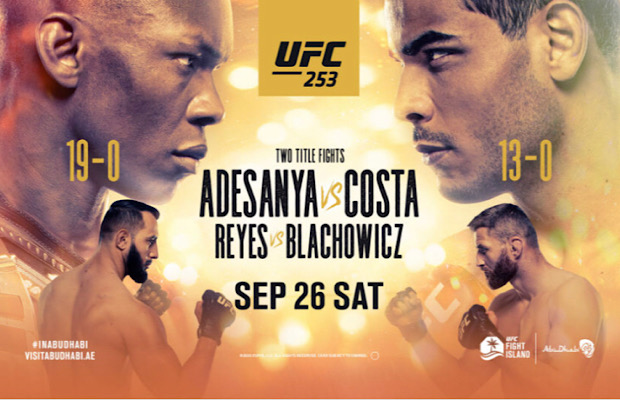 UFC makes it's glorious return to "Fight Island" on Yas Island, Abu Dhabi for for UFC 253 on Saturday night with two titles on the line. There will be a new light heavyweight king crowned in the co-main event as Dominick Reyes (12-1) and Jan Błachowicz (26-8) fight for the vacant title. This is after Jon Jones relinquished his title last month choosing to move up to the heavyweight division. The main event then see's middleweight star and champion Israel Adesanya (19-0) defend his title against Brazilan ace Paulo Costa (13-0).
Israel Adesanya vs. Paulo Costa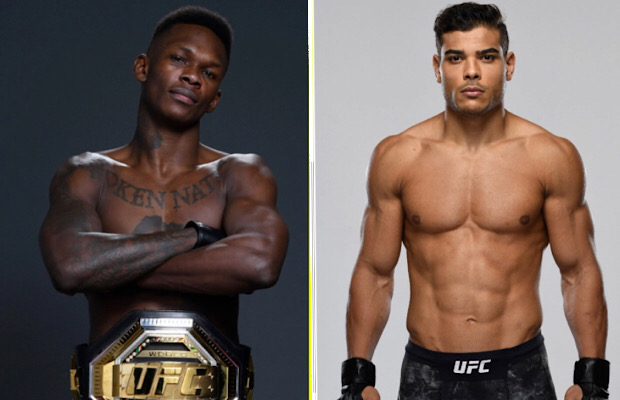 This is a really interesting matchup here between two guys who have never been beaten. It will be the seventh time two undefeated fighters have fought for gold in the UFC. The build-up to this fight was strange to say the least. Thankfully, it's not the build up that has me excited – it's the actual fight.
Izzy fought a strange fight last time out against Yoel Romero. A fight that will only be remembered for how bad it was. Adesanya can't be blamed all that much for that. Romero remained static and stayed tight and threw very little strikes. It's extremely difficult facing off with somebody with that kind of game plan.
I feel that Izzy still didn't perform to the best of his capabilities that night at UFC 248. He will have a bitter taste in his mouth and will want to put that fight into distant memory. He can do just that against Paulo Costa and I feel that Adesanya will be looking to make a statement here.
Costa is very dangerous, don't get me wrong. He has blitzed opponents like Johny Hendricks and Uriah Hall while his win over Yoel Romero was his most impressive performance yet. That fight was a real battle and he got win on the scorecards that will give him confidence coming in here.
Problem is, Hendricks and Hall were having success on the feet before they were finished. Both fighters were especially having success with the jab. That aspect of his game he will need to have improved before stepping in here against Izzy. Adesanya's striking skills are out of this world. Costa has fantastic striking skills also but not to the level of his opponents.
Both guys carry power but you would have to give the power advantage to Costa while at the same time saying technically Izzy is far superior on the feet. Costa's path to victory here I feel is to fight a dirty fight. Not dirty as in the amount of dick kicks we've seen at the APEX. More so along the lines of clinch work and dirty boxing. Costa needs to push forward and back Izzy against the cage.
If you're Paulo Costa here you can't stand in front of Adesanya in this fight because you'll get picked apart. All the smack talk from Izzy before this fight was because he wants to get the Brazilian emotional and off his game. Izzy will look to counter strike Costa's forward moving style. The New Zealander will have to be very careful early in the bout with the power that Costa possesses.
The longer the fight goes, the more I fancy Adesanya here. Izzy won't feel as threatened by the takedown as say against a fighter like Romero. I expect him to open up more on the feet because of that. Costa is dangerous and does have one punch KO power but I feel that if Izzy fights on the outside early on I can see him attacking the body and legs to tire Costa out to take away his power. All in all this is a great scrap I am really looking forward to seeing how the fight unfolds.
Dominick Reyes vs. Jan Błachowicz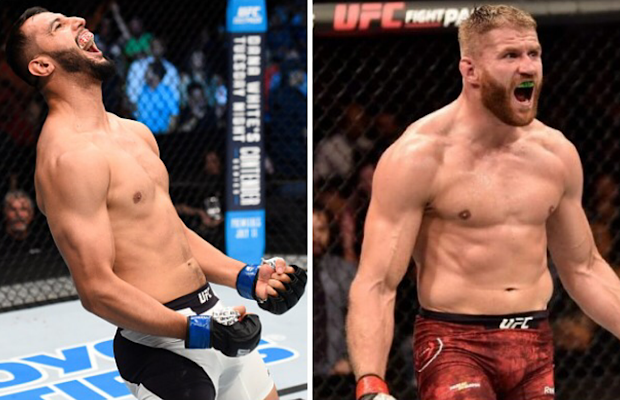 The co-main event for me is similar to the Izzy/Costa fight. I mean that in a way that I feel Reyes is superior on the feet and just has a better all round game. Big Jan is a very, very good fighter. He possesses a lot of power and can end a fight instantly.
Blachowicz is 7-1 in his last eight fights with one blip in the radar when he fought fellow contender Thiago Santos. After that loss things really started progressing for Jan. The knockout of Luke Rockhold, a win against Jacare and another knockout over Cory Anderson followed to earn the Polish fighter a title shot.
Reyes is coming in here off the back of a controversial loss to former champion and pound-for-pound king Jon Jones. Many fans thought that Reyes deserved to get the nod over Jones at UFC 247 but it wasn't to be for the California native. He gets another crack at glory this Saturday and I fully expect Reyes to take full advantage.
The reach advantage here will pay huge dividends for Dominick Reyes. Big Jan's style in recent fights has been to rush forward and throw combinations; and it's been working great for him. He has very crisp boxing on the inside and probably has the advantage in that area of the fight. Reyes will want to keep his distance and not let Jan get into range. Reyes' kicking game will be important in order to do that.
Blachowicz is not going to go in there and win a technical strategic fight against a guy like Reyes. He needs to fight a dogged grueling fight. Mix his wrestling and striking together and try to get Reyes on his back. Reyes won't want to risk it all here and start trading with Jan. I expect he'll use his kicking game to stop the pressure game Jan usually brings to the table.
Reyes won't want this to go to the scorecards. He still has a bitter taste in his mouth over what happened in the Jones fight. I feel Reyes will play a slow game and try to pick Jan apart. It will be the job of Blachowicz to get on the inside and land those bombs to be the first European to win gold at light heavyweight in the UFC.
Undercard
The undercard has some decent fights with a lot of Eugene Baremans' City Kickboxing fighters on show. On the main card, Kai Kara-France (21-8) and Brandon Royval (11-4) throw down in the flyweight division. That will be a hell of a fight. On the prelims section of the card City Kickboxing lightweight Brad Riddell (8-1) and Alex da Silva (21-2) are the headliners. Further down the card featherweight Shane Young (13-4) takes on Ľudovít Klein (16-2) in another interesting bout.
Ketlen Vieira's (10-1) fight with Sijara Eubanks (6-4) might be the stand-out bout here on the undercard as Eubanks steps in on short notice. Vieira was likely one fight away from a title shot before her last loss and if Eubanks can inflict a similar fate it will be a real shot in the arm for the American here in her new division. Hakeem Dawodu (11-1-1) from Alberta, Canada will take on Russian Zubaira Tukhugov (19-4-1) at 145 pounds to open up the main card in what should also be a right tough battle.
Official Fight Card
MAIN CARD

Israel Adesanya (C) vs. Paulo Costa Middleweight Title Fight
Dominick Reyes vs. Jan Blachowicz Light Heavyweight Vacant Title
Kai Kara France vs. Brandon Royval Flyweight
Ketlen Vieira vs. Sijara Eubanks Bantamweight
Hakeem Dawodu vs. Zubaira Tukhugov Featherweight

UNDERCARD

Diego Sanchez vs. Jake Matthews Welterweight
Brad Riddell vs. Alex da Silva Coelho Lightweight
William Knight vs. Aleksa Camur Light Heavyweight
Juan Espino vs. Jeff Hughes Heavyweight
Shane Young vs. Nate Landwehr Featherweight