PFL 2021 #6: Regular Season Preview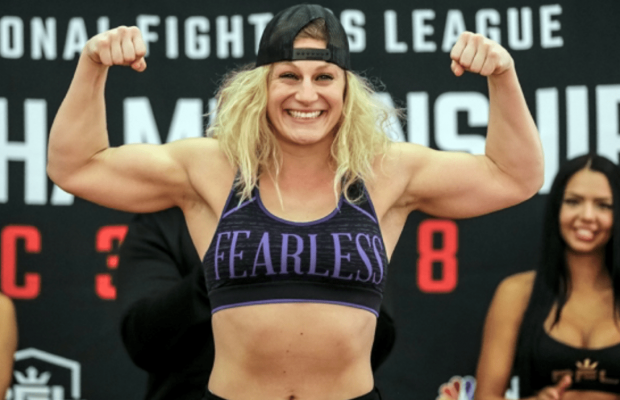 We have reached the end of the PFL regular season. The Lightweights and The Heavyweights will take to the Ocean Casino Resort in Atlantic City, New Jersey to try and earn some playoff spots. In addition, there are a couple of makeup matches from event 4 on the card. The action goes down on Friday night.
The Lightweights
Anthony Pettis (24-11) vs Raush Manfio (12-3)
Pettis needs a win here to advance, and perhaps a finish depending on tiebreakers. Manfio can qualify with a draw. Pettis is a great striker and also a BJJ black belt, an area he probably doesn't use enough. Manfio is a grappler who is functional on the feet. Both men know exactly what they need to do to qualify so it will be interesting to see if it alters their gameplans.
Kayla Harrison (9-0) vs Cindy Dandois (16-6)
This is a battle of the judokas. The trouble for Dandois is that Harrison's judo is many levels above. There is very little chance of Harrison falling for her headlock throw. Harrison has been a superstar for the PFL and her striking and ground and pound are adding more strings to her bow. She could breeze through Belgium's Dandois.
Larissa Pacheco (14-4) vs Helena Kolesnyk (5-3)
Pacheco came in like a wrecking ball in the first round, needing just 51 seconds to earn a quick six points. Kolesnyk is a striker so may give Pacheco less of a chance to repeat, she does however struggle in the grappling. Pacheco also happens to be a very good grappler. This is a tough fight for Kolesnyk and needs to land big while they're still standing.
Genah Fabian (3-1) vs Julija Pajić (3-1)
This is a battle of the kick-boxers. Fabian should advance with a win, whereas Pajić will likely need to finish. They're both evenly matched on paper, let's see who can get it done in the cage.
Taylor Guardado (1-1) vs Laura Sanchez (1-1)
This is a striker vs grappler matchup. Guardado is going to look to make this ugly and grapple up against the fence. If she's successful, it should be enough to advance. Sanchez is a striker who needs a finish to stand any chance. She has to avoid the clinch at all costs.
Kaitlin Young (12-10-1) vs Mariana Morais (16-11)
Young is a striker with over a decade of experience. Morais has only won 4 of her last 11, however the losses have been mostly to elite names. It will be up to her to force things after losing her first fight. Young may be happy to coast to a decision.
The Featherweights
Lance Palmer (22-4) vs Movlid Khaybulaev (16-0-1)
This is another makeup fight from week 4. Khaybulaev needs a win to make the playoffs. Palmer not only needs a win, he needs a first round finish. This doesn't quite suit his dominant wrestling style and he's likely going to either go for a quick sub or swing for the fences. Khaybulaev has never been defeated and is a monster in general. He walks forward like a terminator and if he's not throwing strikes, he'll take you down and make it miserable. Palmer needs a Hail Mary.
The Heavyweights
Denis Goltsov (26-6) vs Brandon Sayles (6-1)
Goltsov is a very dangerous man. He has high level combat sambo and can just drag you down and beat you to a pulp. Sayles is a very tough individual. He is adept in striking and grappling. He's never fought anyone like Goltsov before. He's going to need every bit of grit he has to get through this.
Bruno Henrique Cappelozza (11-5) vs Mo DeReese (8-3)
Cappelozza is a knockout artist and he underlined that in the first round of his last fight with a 46 second KO. DeReese is likely to try and take this to the ground and use some ground and pound. He's in desperate need for a win and a finish.
Ante Delija (17-4) vs Chandler Cole (8-2)
Delija will be knockout hunting here after losing his first fight. He did have his moments in the short fight, and will need to come out flying this time. Cole is a late stand in who is also a fan of knockouts. This could be a straight shootout rock em sock em to earn a playoff spot.
Renan Ferreira (6-2) vs Stuart Austin (15-6)
Ferreira had his win overturned to a no contest against Werdum. He will likely try to avoid ground scenarios after that debacle. Austin is a former BAMMA champion. He has a lot of experience and can take the fight anywhere. Both men will need to go for it.
Klidson Abreu (15-4) vs Jamelle Jones (11-6)
Both men are late stand-ins. Abreu was most recently in the UFC. His biggest strength is his submissions, but can hang on the feet. Jones wants this to remain standing and go for the big knockout. This is a great opportunity for both to nip into the playoffs without picking up too much cage time.
PFL 2021 #6 is live on Friday night from 23:00 and is available on ESPN and ESPN+ in the USA, on MMA TV (PPV) in the U.K. and on YouTube / Eir Sport (on delay) in Ireland.